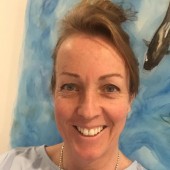 Anna Talaj ND is a qualified and accredited Naturopath, who is passionate about helping to restore people to their individual optimum level of health and well being.
Over a career spanning 28 years, Anna Talaj has cared for people of all ages, and treated a wide range of presenting ailments.  From stomach problems, to reproductive health, Anna utilises a specially tailored mix of natural healing modalities: Homoeopathy, Naturopathy, Nutrition, Herbal Medicine and Remedial Massage, to assist people with their symptoms, and deal with the underlying causes of their health problems.
As a mother, Anna has a particular affinity with women's and children's health and has found that women and children's issues respond well to her blend of naturopathic treatments.
As a mother to 4 children I have always taught them the importance of healthy eating, good sleep and proper GUT function so that they can reach their full potential and feel good within themselves. Good foundations are really important to health and well being at any age.
Anna has witnessed a huge cultural shift in the way people perceive and respond to Naturopathy since she graduated with a Diploma of Applied Science – Naturopathy from the Southern School of Natural Therapies in 1990.  No longer perceived exclusively as the health choice of hippies, Anna has found that Naturopathic healthcare is now seen as the first port of call for an increasing cross section of the public.  More and more, natural health care treatments are also seen as an adjunct to mainstream medicine and treatments, or when mainstream medicine is seen to have failed.
Anna specialises in:
Female & male hormonal testing
Digestive health, bowel & detox support
Sleep improvements
Immune recovery & strengthening
Low energy & mood imbalance
Weight management & stress disorders
Fertility & children's health
Better food plans & education
All healthcare, all ages
Accredited: Australian Natural Therapies Association (ANTA)
Qualification: Diploma of Applied Science – Naturopathy
Health Fund Rebates are available on services — check with your fund about your cover.